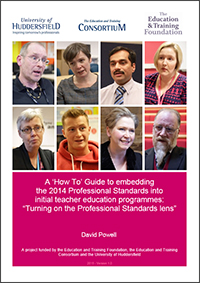 'How to' Guide 'turns on the Professional Standards lens'
The University of Huddersfield has just published a 'How to' Guide on embedding the 2014 Professional Standards into the initial teacher education curriculum as part of an Education and Training Foundation funded project. The guide is a resource aimed at managers, teacher educators, subject specialist mentors and trainee teachers from the education and training sector who are working with the 2014 Professional Standards. See more details, PDF guide, and videos
Featured news and updates
Consortium Annual Conference 2015
The Conference is on 26th June and the theme is "What's going on? Research 'in', 'on' and 'with' the further education and skills sector". Keynote speakers are Professor Diana Laurillard, (Institute of Education), and Dr Kevin Orr, the University of Huddersfield.
English Enhancement Programme
The English Enhancement Programme (EEP) is a suite of training options developed by the Education and Training Foundation to enable teachers in the FE and Skills sector to rise to the challenge of teaching GCSE English Language.
APEL / APLA Bridging process for 2015
APEL / APLA Bridging process for 2015 is now open for application. There will be two windows of opportunity to complete the process: 18th May to 17th July; and 24th August to 30th October.
Spring 2015 newsletter is now available
This issue features profiles of Leeds City College, Andy Armitage; Reports on ETF projects; Researching further education; A book review of FE and the Twelve Dancing Princesses; Principals' event; Spring Conference; and Forthcoming events.
see newsletters page
iPDP Project and help centre
‌The project provides an online portfolio template to submit, track and review all student work as they study for the In Service Cert Ed, PGCE and PGDipE with the University of Huddersfield.
FREE - Teaching in Lifelong Learning journal
This Cross-CETT journal aims to support and promote the work of the designated Centres for Excellence in Teacher Training (CETTs). FREE access to the TILL journal available online.
See TILL journal page