News
Jane Brooke and Roy Halpin featured in 'Life and work of teacher educators' brochure
We are delighted that two of the Consortium's teacher educators, have been profiled in the latest edition of The Life and Work of Teacher Educators. This edition focuses on the stories of how teacher educators become "research active" and profiles Jane Brooke, of Selby College, and Roy Halpin, of York College, alongside university-based teacher educators from England, France, Japan, Lithuania, and the Netherlands.
Later this year, as part of the series, the Consortium will be profiling more of its own teacher educators to celebrate 70 years of teacher education at the University of Huddersfield and 50 years of partnership between the University and further education colleges.
Download the Teacher educators pathways to becoming research active brochure
.

David Powell featured in 'Life and work of teacher educators' brochure
The Consortium Director, David Powell is featured in a new publication profiling the work of nine teacher educators from across the world. The 'Life and work of teacher educators' is the second brochure in a series- the first focused on Dutch teacher educators - and is again edited by the HU University of Applied Sciences Utrecht's Peter Lorist and VU University Amsterdam's Anja Swennen. This brochure profiles nine members of the Association of Teacher Educators in Europe's Research Development Community on Professional Development of Teacher Educators and in it they tell their story of how they became teacher educators and identify colleagues who have been influential in their careers.
In the preface, Dick de Wolff (Dean Faculty of Education, HU University of Applied Sciences Utrecht) observes that:
"...as teachers are central to good education, teacher educators are central to good teacher education. Both teachers and teacher educators develop themselves during their career in various ways to be able to address the developments in educational science, educational practices and society".
In the brochure David Powell describes himself as leading 'a privileged life' as a teacher educator, though acknowledges that he was 'a reluctant teacher educator" to start with.
Download the 'Life and work of teacher educators' brochure
The University of Huddersfield's first initial teacher education (ITE) partnership with a further education college (Durham Technical College, now part of New College, Durham) began in 1966. To celebrate 50 years of ITE partnership with further education colleges from across England, the Consortium plans to develop its own version of the brochure, provisionally called the Life and work of FE based teacher educators, in recognition of the distinctive nature of their work.
David Powell's Podcast at Pivotal Education Ltd
'How to train teachers properly, Further Education and more!
February 29, 2016
David Powell, our Director, was recently interviewed by Paul Dix, of Pivotal Education, about training teachers within the FE and Skills sector.
To hear the interview please play the podcast below.
For further please see David Powell on how to train teachers properly, Further Education and more! PP106 (opens new window)
'How to' Guide 'turns on the Professional Standards lens'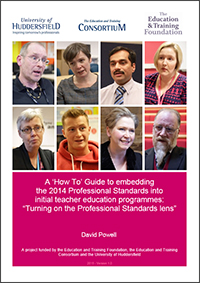 ‌The University of Huddersfield has just published a 'How to' Guide on embedding the 2014 Professional Standards into the initial teacher education curriculum as part of an Education and Training Foundation funded project. The guide is a resource aimed at managers, teacher educators, subject specialist mentors and trainee teachers from the education and training sector who are working with the 2014 Professional Standards. It documents the work undertaken as part of the project, includes the resources developed, shares lessons learned and identifies plans for the future.
The Consortium supported the project by paying for a series of 'talking heads' films to be made for the guide and the production of A0 sized posters of the 2014 Professional Standards for the University and its partner colleges to display in their teaching rooms. The other resources developed for managers, teacher educators, subject specialist mentors and trainee teachers include:
the new paperwork developed for the in-service and pre-service Certificate in Education and PGCE (Lifelong Learning) courses and illustrative examples of how it is being used on this year;
A series of activities designed for teacher educators, trainee teachers and subject specialist mentors to explore the standards further.
The guide can be downloaded from 'How to' Guide page.


More News
For more news items please see Archived news