Journal - Teaching in Lifelong Learning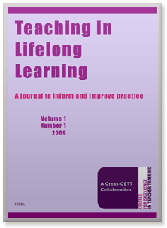 A journal to inform and improve practice
FREE Access online http://eprints.hud.ac.uk/journal_till
‌

Editor: David Powell
Deputy Editor: Dr Lisa Russell
This Cross-CETT journal aims to support and promote the work of the designated Centres for Excellence in Teacher Training (CETTs). The journal will publish original contributions on the subject of teaching, learning, teacher education and Continuing Professional Development (CPD) for and within the Lifelong Learning Sector.
The editors will invite papers which report on research and development projects with a focus on the improvement of teaching and learning and of the curriculum in relation to teacher education and CPD in the Lifelong Learning Sector (LSS). The Lifelong Learning Sector includes Further Education, Work-Based Learning, Adult and Community Learning, Voluntary Sector, Prison sector and Higher Education.

See more information at the HUDCETT Website Cross-CETT Journal page.